Tracheostomy Range Overview
At Sentient Healthcare, we provide a comprehensive range of high quality tracheostomy products which have been specifically designed for tracheostomees.
Our tracheostomy range provides solutions needed to manage all aspects of living with a tracheostomy including airway protection, skin management, communication, comfort and cleaning.
It includes tracheostomy tubes, stoma filters, speaking valves, airway protectors, cleaning products, suction machines and more.
Our experienced product specialist team have product knowledge that is second to none and truly understand the users' needs and we are here to support them and their healthcare team in any way that we can.
What is a Tracheostomy?
A tracheostomy is an opening that is made through the skin in the front of the neck into the trachea windpipe. A tracheostomy tube is then inserted into this opening to maintain the airway.
There are a number of reasons why a tracheostomy may be necessary including:
Blockage of the windpipe due to swelling, infection or other causes
Some conditions requiring the use of a breathing machine
After some operations on the head and neck area
Tracheostomies can be temporary or long term. For however long, we will be here to provide the products and support you need.
Tracheostomy Product Ranges
Browse our tracheostomy product ranges below.
Tracheostomy Resources
Browse our selection of free tracheostomy resources for healthcare professionals, tracheostomees and their families below.
Latest Tracheostomy Related Articles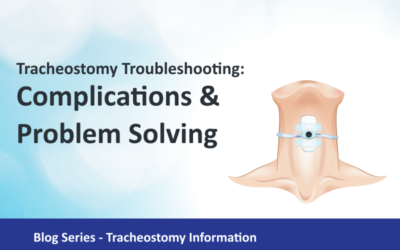 This article part of a series of informational articles for tracheostomies. While tracheostomies are safely performed all the time and can vastly improve an individual's quality of life, complications can arise. Learning about these tracheostomy complications and...
This article is part 1 of a series of informational articles for tracheostomies. A tracheostomy is an opening made in the front of the neck via a surgical incision 1. This hole extends into the trachea, known more commonly as the "windpipe," and is used to aid...
Tracheostomy Product Presentation
Dedicated education and support.
One of our goals at Sentient Healthcare is to provide healthcare professionals across Ireland with the knowledge and support they need to be confident in the prescription and application of our tracheostomy product ranges.
Tailored to your needs.
To achieve this, we provide product presentations to groups of healthcare professionals which can be tailored specifically each group's needs. We can accommodate training for small groups as well as groups of up to 30 and more.
Practical and interactive.
We put an emphasis on practical demonstrations and interactive sessions to ensure that the attendees get the most out of the presentation.
Enquire Now
To order a product, request a product presentation, make an enquiry or to get support from one of the Sentient Healthcare team simply click the enquire now button and fill out our contact form. Alternatively, call us on +353 1 582 2170.