Since Abilia announced that the SL40 was being discontinued in December 2018, therapists and users alike have been eagerly anticipating the arrival of the SL50. Well now it's here and the excitement had been justified, it does not disappoint!
In this article we take a closer look at the Lightwriter SL50 to see how it's different from the SL40 and highlight some of its great new features.
The best dedicated text-to-speech device available
Abilia have designed the Lightwriter SL50 to be the best dedicated text-to-speech device available for literate users who are unable to communicate effectively through speech.
Every part of the device has been specifically designed for purpose, and engineered to enable the user to participate in social interactions, more easily and effectively wherever they are – whether it's at work or during leisure time, and even in noisy, sunny outdoor or poorly lit environments.
Designed for life
The SL50 has some great new features that really show how it has been designed for everyday life. They make it easy to use the device while out and about, and are proving to be very popular among users.
Mobile phone integration
The SL50 can connect to the user's mobile phone via Bluetooth. It allows them to make phone calls through the Lightwriter, using a combination of the synthesised speech and the user's own voice!
If you are on an Android phone, the SL50 also allows you to access your phone book and send text messages.
Clear audio and visuals – both day and night
The SL50 comes with loud and clear outfacing speakers along with an outfacing screen to confirm what you have said, which work great if you are meeting friends in a busy café, or somewhere you might usually struggle to be heard.
The lighting on the screen is also adjustable so it's still clear and easy to read in bright daylight, so deciding to sit outside is no longer a problem. And, the SL50 comes with backlit keys so it's still easy to use even if the day turns to night.
Take it everywhere
The new SL50 design is small and robust, (100g lighter than the SL40!) so you can take it everywhere with you and still be confident that it will withstand the bumps and knocks of everyday life.
Plus its long battery life means you can it to your heart's content all day every day without having to worry about how much battery you have left.
Natural Communication
Abilia have put a particular focus on making sure the SL50 makes communication as natural as possible. It's designed to be efficient and is always ready to talk by simply pressing any
The menu is simple and shows the relevant options at the right time so it's fast to use – with no distracting apps or screen loading times.
And its dual screens are great for face-to-face engagement, making it much easier to communicate naturally with eye contact, gestures and body language.
Configure the SL50 to your own needs
Another of the great features of the new SL50 is that each user can set it just the way they need it. It is highly configurable, and more importantly, easily configurable so you can change it and use it in many different ways to suit your situation.
Adjust the key sensitivity and choose from a selection of keyguards to suit your own pace and power
Set the menu can be to a clean, simple setup or configure it to show all the settings or just the ones you need
Change the size of text and screen brightness
Choose your own voice, and adjust the volumes and sounds
All of these little changes can really make the device personal to each user.
Adaptive dictionary technology
The SL50 comes with a comprehensive dictionary pre-loaded into it as you would expect. But the impressive part is its intelligent adaptive technology. It learns new words and predictions as you type and over time it becomes even more responsive, helping you find the words more quickly.
You can also upload and download your own dictionary, blacklist words you don't need to use, and even change the way you pronounce certain words.
Keyboard scanning is also can also be set up to function the way you need it, with one or two switches. And, you can use a combination of scanning and keyboard presses which is helpful if your energy and dexterity changes throughout the day, or throughout the years.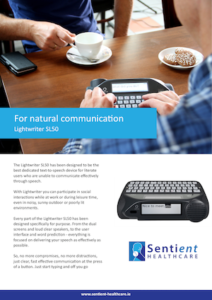 Download the Lightwriter SL50 brochure here.
Watch the video
Click here to find out more about the SL50, or to enquire about out SL40 trade-in scheme email us at sales@sentient-healthcare.ie.